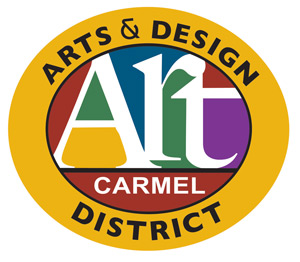 Get your creative juices flowing this weekend at the IU Health North Hospital Second Saturday Gallery Walk. Join us as we partner with the Art Lab for a free make and take art project at their studio from 5 to 8:30 p.m. on Saturday, Jan. 13. You'll be able to make beautiful art magnets for your fridge including embossed metal designs, foil art and collaged magnet figures.
After you've explored the exciting exhibits and shows at the District galleries, you're sure to have worked up an appetite. Dine at one of the many District restaurants or grab dessert to complete your night out.
Special gallery exhibits will be featured throughout the Gallery Walk including:
Indiana Artisan Nancy Sinnott of A Wee Bit Warped will be demonstrating her love of textiles at the January Gallery Walk. Meet Nancy and watch her weave on her loom from 5 to 9 p.m. at the Carmel location (111 W. Main St., #120).
Start your 2018 with art from CCA Gallery's famous indoor sidewalk sale. Great original art will be featured in the main gallery at fabulous prices throughout the month of January (111 W. Main St., #135).
Art on Main is hosting their Student Art Show and Sale all month long. Join them for a Student Art Reception from 5 to 9 p.m. during the Gallery Walk. Anna Basheva Afshar, Randall Scott Harden and Mosaics Garden by Nancy Keating will showcase select art by their outstanding students. It's a celebration of each student's hard work and talent. Their artists offer private instruction and group classes (111 W. Main St., #140).
The Carmel Arts Council's Children's Art Gallery features students from Smoky Row Elementary School. They studied the art of post-impressionist artist Vincent Van Gogh. Each grade level created a series of drawings and paintings which were inspired from the many different themes of Van Gogh's artwork. The Gallery Annex showcases artwork from students at Carmel, Clay and Creekside Middle Schools in addition to artwork from the students at Carmel High School. The CAC's "Community Art Exhibit" will feature drawings, paintings and mixed media collages created by the Life Skills classes at Carmel High School (40 W. Main St.).
Soori Gallery features paintings, bronze and acrylic sculptured works by leading American and international artists. Featured sculptors include Michael Wilkinson, Frederick Hart, Jerry Joslin and more.
Activities taking place during the January Gallery Walk include:
Ever wonder how little pieces of "fruit" growing on trees in Africa, South America and other exotic places actually becomes the dark brown bean you use in your coffee pot? Join the experts from Carmel's first coffee roaster – Indie Coffee Roasters – for Roasting 101.

Four Burr Grinder Gift Baskets featuring beans from Indie Coffee Roasters and Carmel Caffeine Trail mugs will be given away each hour from 5 to 9 p.m. There is no cost to attend or to enter into the door-prize giveaway.

Roasting 101 will begin each hour during the Gallery Walk at The Carrie Holle Group – Highgarden Real Estate, 110 W. Main St., Suite #130. Seating is limited.
Gallery D'Fridge Make and Take Art Project at the Art Lab. Create beautiful art magnets for your fridge. Magnets include embossed metal, foil art and collaged magnet figures (31 E. Main St.).
Free caricatures and face painting by Custom Eyes Designs (Sub Zero Ice Cream, 111 W. Main St., #130).
Be a part of the Scavenger Hunt that will lead you to find select pieces of art or items of interest in each of the participating galleries and businesses. Begin the hunt inside All Things Carmel (110 W. Main St., #104). Your completed Scavenger Hunt clue sheet will enter you for a chance to win one of several great prizes sponsored by Carmel Health and Living during the Gallery Walk, including:

William and Roam Gift Bag; Certified women owned company, led by Carmel residents ($55 value)
CARMEL photo letter display from CCA Gallery & Gifts ($48 value)
Indiana Artisan Culinary Gift Basket ($40 value)
Collage print from Susan Kline Designs ($20 value)
Matted print of "Black" from Knight of Indiana Artisans ($20 value)
Matted print of "Brown" from Knight of Indiana Artisans ($20 value)
The Pint Room gift card ($50 value)
A map of the gallery locations and more information about the IU Health North Hospital Gallery Walk activities can be found at CarmelArtsAndDesign.com.
Public parking is available in the Carmel Lions Club lot (141 E. Main St.), Sophia Square parking garage (entrance off of 1st Ave. NW), Indiana Design Center parking garage (200 S. Range Line Road) or available on-street public parking. The Arts & Design District parking map may be downloaded here.
The Carmel Arts & Design District is the Midwest's premier arts and design destination. Home to more than 200 businesses, including art galleries, restaurants, antique dealers, design showrooms, boutiques and creative service providers, the Carmel Arts & Design District promises to stimulate the senses. The Indiana Design Center is housed in the Carmel Arts & Design District. In addition, hundreds have taken advantage of the wide variety of housing opportunities and call the Carmel Arts & Design District home.